Little did I know when I began taking Fearless Painting workshops with Connie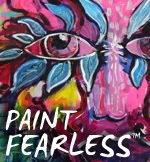 that I would be entering into a worldwide tribe of women who inspire me, who encourage me, who invite me deeper into who I am as a woman and an artist.
In my tribe, I met Hali and I have been following her painting process for a while now. She stirs my soul and echoes a devotion to what art brings into the universe.
In January, she entered into a sacred painting process:
I intend to make a painting in honor of the deep prayers of anyone who feels called to offer their own prayer up to the process.

Since losing a traditional practice of prayer, my art has become my way of being in sacred space, of listening, of pouring my heart out. I remember what it was like to emerge from a prayer session feeling cleansed and hopeful. That is what painting accomplishes in me now. So I watched Hali from the sidelines, mesmerized. She had captured my heart!
Her intention and invitation was this:
While painting, the intention is simply to hold space for you, your prayers, your desires, your deep yearnings and needs, your truths, or anything you need to release - whatever that be, there is no right or wrong, no specific topic. Perhaps it is something you have not voiced to anyone, perhaps it is well known to those around you. It could be an immediate wish, or a lifelong commitment or something that just comes to you at the moment…

It is an exchange of sorts – you offer to release your prayer to the creative process of a painting, and I, in turn, offer to witness and honor your spirit and heartfelt prayer in deep gratitude through my painting practice with color, brushes, curiosity and stillness. As simple as that.

No promises, no gimmicks, no catches. Just This.
How simply beautiful is that?! How simply beautiful is this?!
Go see the process as she created while holding agreement with the prayers that were sent to her!
Now it is June and she is offering another invitation. Not only will she be entering again into the prayer painting process, she is inviting others to do the same.
And now we come to my invitation to you.
My birthday is next week and I have decided that I want to give an offering to the universe, a prayer offering, to honor my belief that we are all connected, we are one in spirit.  I have cleared time and space next Thursday to enter into that process and I am inviting you to be a part of it.
For the next six days, I am accepting your prayers, your wishes, your hopes, your blessings. In this invitation, I am asking you for a great gift as well. I am asking you to trust me with your sacred words and I commit to you that they will be held as such. What you offer can be anything from one hopeful word to a story of deepest longing.
Next Thursday, I will begin my day with yoga and meditation, clearing space in my own spirit. Then I will bring together your prayers, reading them aloud and lighting a candle for each one.
Before beginning the painting, I will light one larger candle and extinguish the individual ones to represent that our prayers are one.
Then the process begins. I have no way of telling you what this painting will be. I know this. Just as I am asking you to trust me with your prayers, I have to trust the painting process. It will be a practice of breathing, listening, painting, trusting, praying. I will incorporate your actual words into the process of painting but I am not even sure what that will look like. I have glimpses of ideas but I am trusting to wait until then to know. It will be a gathering of our spirits into one spirit, of our prayers into one prayer, of our creativity (and you know I believe each of us own that) into one creation.
I would be so honored to have you join your prayers with mine. You can send those to me privately by filling out this form: